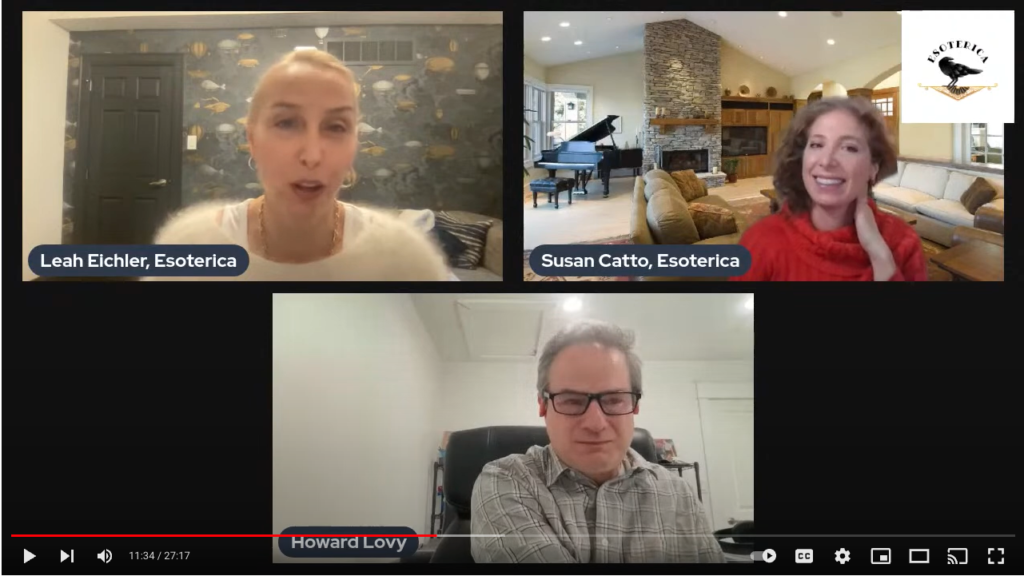 Interview: What I do as a Developmental Editor
Leah Eichler and Susan Catto of Esoterica Magazine hosted an interview: What I do as a developmental editor. They asked some great questions, including how I handle tough clients. I discussed some of the favorite memoirists I've worked with and how I help writers discover their own "voice." We also talked about trends in Jewish nonfiction, since I interview a great many Jewish authors for Publishers Weekly, JTA, and my own Substack newsletter. Below are some highlights from our interview. Below that, you can click and watch the whole thing.
On Who I Work With
"I get a lot of first-time authors who say, 'Well, I don't know if this is a book. Everybody told me I should write a book about this.' My feeling is that everybody has a book in them. Not everybody agrees with me on that. But I think everybody does have at least one book in them. So, I help them take a series of events in their lives and tell their story. I have people on the other end who are experienced authors and have big publishing contracts who want me to be their coach and get them to meet deadlines. A lot of times, I'm part editor, I'm part coach, I'm part amateur psychologist."
On Writing Voice
"When writing a memoir, there's the story, and then there's how you tell the story. Everybody has their own little way of speaking, has their own catchphrases that they like to repeat, and their own obsessions. That, to me, helps bring a story to life. It's not just 'This happened, and then that happened, and then the other thing happened.' But it's a matter of telling a story that only you can tell in the unique way that you can tell it."
On Memoirs I Enjoy Editing
"The best kinds of books to edit and to read are where you go through some sort of life-changing realization. Sometimes it can be an addiction, sometimes it can be abusive situation, or sometimes it can be a fundamentalist form a form of religion that you end up rejecting. But, to me, it's fascinating how you how you can go from the realization that something is not right with your life to, 'Let's do something about it, and really sacrifice to do it.'"
Watch the Interview: What I do as a Developmental Editor
Related Posts
Working with a Developmental Book Editor
TwitterChat: How to Work With a Developmental Editor
Want a Book Editor who Really 'Gets' You?
About Post Author